Wood Flooring Supplier in Bernardsville, NJ
Would you like to live in a home with beautiful and elegant wood flooring? Then you should contact our company specializing in hardwood flooring, including installation, refinishing, and floor resurfacing. We take pride in the attention to detail put into every project we are involved with. We are known for professionalism, experience, and intense worth ethic. Customer satisfaction is our priority, and we look forward to building long-lasting relationships with our customers in Bernardsville, NJ, and other surrounding areas.
Wood floor is a good investment and a great way to increase the value of your home. Wood flooring has many advantages over other types of flooring. Wood adds style and character to any property, it is warm and durable, and it is easy to clean. In addition, it contributes to the better air quality of living space, meaning that wooden flooring is a healthy option.
Our company specializes in wood floor installation and serves clients in Bernardsville, NJ, and other surrounding areas. We will be happy to serve you as well in order to turn your flooring dreams into reality.
Hardwood Flooring Installation
Hardwood flooring is made of real wood and provides an authentic look and warmth for your living and working spaces. Getting hardwood floors is one of the simplest and quickest ways to enrich your interior and add value to your property. Compared to other types of flooring, hardwood flooring is known for the following benefits:
Easy to clean: Hardwood floors are appreciated for their low maintenance qualities. They are easy to clean, which makes them a perfect option for homeowners looking for a convenient flooring solution.
Durable: In general hardwood floors have a reputation of being very long-lasting. They can be sanded and refinished several times without losing their quality and structural integrity.
Increased value of your property: Hardwood floors allow you to increase the resale value of your home. Hardwood floors are a great investment and smart financial decision for those who are planning to sell their property in the nearest future.
Good air quality: Hardwood floors do not trap pollen, dust, pet dander, or any other allergens. Therefore, this type of floor is great for people suffering from allergies.
If you want to update your residential or commercial property with beautiful and high-quality hardwood floors, do not hesitate to contact our company. Our team consists of expert flooring contractors, who will be able to install hardwood floors for you for a reasonable price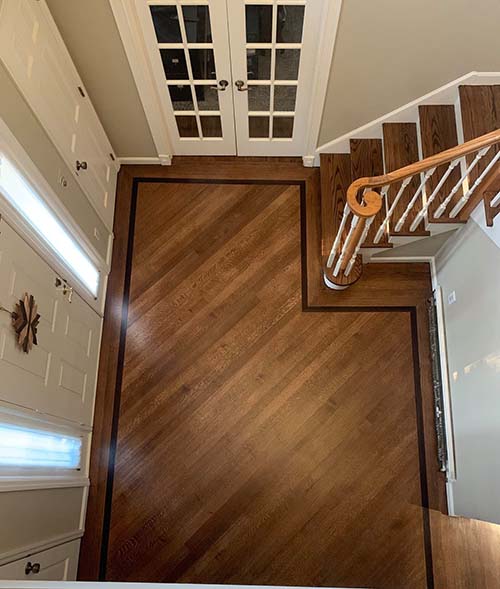 Hardwood Flooring Refinishing in Bernardsville, NJ
If you already have wood flooring, you may need to update its look at some point in order to keep its beauty. In this case, you will need the help of professionals specializing in floor refinishing. If you live in Bernardsville, NJ, or any other surrounding area, and you want to make your wood floor look new again, our flooring experts are ready to help and determine a solution that will fit your personal needs. Whether there are deep scratches on your floor or light scuff marks, we will examine the level of damage and offer you the best solution. One of these solutions is hardwood floor refinishing known as the process of revitalizing and renewing wood flooring.
Hardwood Flooring Refinishing
Hardwood flooring refinishing is one of the best ways to make your wood floors look great again. If you are choosing between replacing your wood entirely and updating them, here is a list of a few benefits of hardwood flowing refinishing: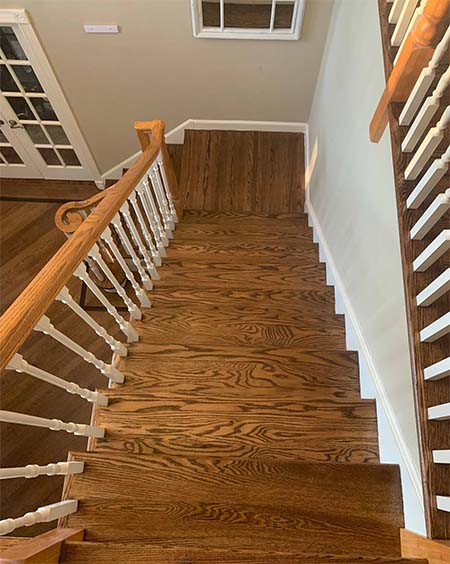 Reduced maintenance costs: Refinishing floors with a special oil helps keep them in excellent condition for many years
Added value to your property: Flooring refinishing will automatically add value to your home, which makes this process a great investment. According to the National Association of Realtors, about 54% of home buyers are ready to pay more for the property with refinished floors.
Extended longevity: Refinishing helps significantly extend the life of hardwood floors. Additionally, this process will help your floors look great for a long and save you the expenses associated with floor replacement
Increased safety: A damaged floor can be quite dangerous. For example, splintering hardwood floors can cause a foot injury. Therefore, it is important to repair and refinish the floor on time.
Hardwood Flooring Supply in Bernardsville, NJ
If you are currently remodeling or constructing a house, you need high-quality flooring materials. Whatever texture, color, or type of hardwood flooring you are looking for for your flooring project, the experts of our company are ready to order and deliver it straight to your floor. Therefore, when you think hardwood flooring supply, think of our company.
Hardwood Flooring Supply Sales
If you are looking for a trustworthy and reliable company that sells quality hardwood flooring supplies, your search should end here. Regardless of the type of floor you need, we are ready to provide it for you.
Do you need the help of a professional hardwood flooring supplier in Bernardsville, NJ?
If you are looking for a professional and experienced hardwood flooring supplier in New Jersey, our company is ready to help. Our flooring experts have years of experience and specialize in both residential and commercial projects. We are a full-service wood flooring company that provides top-quality hardwood flooring, materials, and installation services. If you have any questions about our company, or you want to discuss your project with us, feel free to give us a call.