Hardwood Flooring Supplier in Hardwick, NJ
For more than 25 years, Cafaro & Williamson Wood Floors has supplied, installed and finished hardwood floors across Northern New Jersey. Home and business owners choose us for our quality products, outstanding service and years of accumulated knowledge—and we never disappoint! If you're in the market for superior hardwood floors, we're the best in the business. Give us a call today to schedule a consultation.
Northern New Jersey's Premier Wood Flooring Expert
No matter how many times you change the décor or repaint the walls, there's nothing so timeless in a home or business than the appeal of an authentic hardwood floor. At Cafaro & Williamson Wood Floors, we have a deep and abiding love for wood flooring that stretches back more than 25 years. In that time, we've helped thousands of customers across Northern New Jersey buy, install, replace and restore their wood floors, to benefit from the warm, regal, timeless appeal they offer.
Customers come to us not only for our extensive wood flooring supply, but because they know they'll get nothing short of superior results. Whether we're installing your hand-picked floor and raising the aesthetic of your home or refinishing your business' old wood flooring, our attention to detail, superior techniques and masterful skill ensure you're getting a floor that's almost too good to walk on!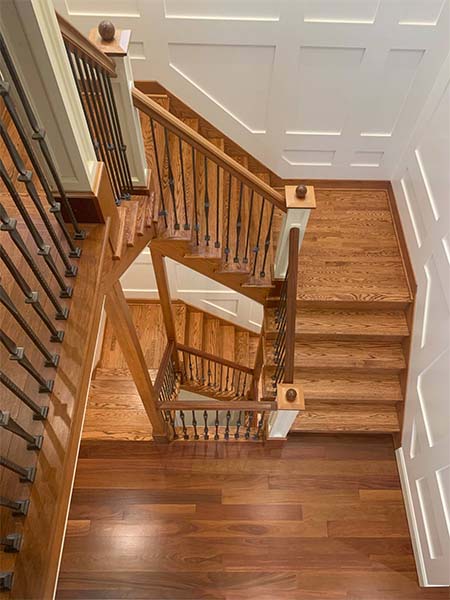 We're with you from start to finish when you choose us for wood flooring supply. Chat with us about your style preferences and let us help you pick out exactly what you want for your home or business—right down to the finish color. Once it's ordered, count on us to do all the work: installing, finishing and protecting your floor. Even years later, call us out to refinish and restore your floors—it's always our pleasure! Prefer to order wood flooring from us and do the work yourself? No problem! Our customers can pick and choose the services they need. At the end of the day, we're committed to ensuring every wood floor we work on gets the attention it deserves to exude a timeless appeal. Wood flooring is a symbol of sophistication, quality and luxury: we'll make sure your floor says all that and more.
Choose your level of involvement and customization—we're here to serve you!
Our attention to detail results in immaculate flooring solutions, no matter the job.
We rely on the latest and greatest flooring products and techniques, to ensure excellence.
Already have hardwood flooring? We can refinish it to restore and preserve its beauty
Our owner is the project lead on every job, ensuring top-notch results for every customer.
Embrace the Benefits of Hardwood Floors
The benefits of hardwood flooring are timeless. Let Cafaro & Williamson Wood Floors help you take advantage of them today. Contact us for expert sales, installation and finishing services.
Providing Hardwood Flooring to the Following Areas:
BELVIDERE, NJ | BLAIRSTOWN, NJ | BRANCHVILLE, NJ | CALIFON, NJ | CHESTER, NJ | DOVER, NJ | FRANKLIN, NJ | HACKETTSTOWN, NJ | HARDWICK, NJ | HOPE, NJ | JEFFERSON, NJ | LAFAYETTE, NJ | MORRISTOWN, NJ | NEWTON, NJ | PARSIPPANY-TROY HILLS, NJ | SPARTA TOWNSHIP, NJ | SUSSEX, NJ | WASHINGTON TOWNSHIP, NJ | WASHINGTON, NJ | ANDOVER, NJ | GREEN TOWNSHIP,NJ | MENDHAM,NJ | LONG VALLEY,NJ